Kirankumar Patel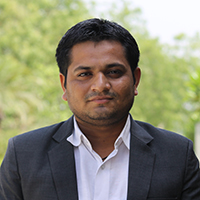 Kirankumar Patel
Assistant Professor
[email protected]
Brief Profile
Prof. Kirankumar Patel has worked in academia as well as in industry. He had been a Trainee Engineer in commissioning and erection of PVC Pipe Socketing Machine. At Saffrony Institute of Technology, he is involved in SAEINDIA Aero-design challenge which is designing and developing Remote Controlled Aircraft. He has been instrumental in conducting many Metal Casting Workshops for second year students. His areas of interest are Elements of Mechanical Engineering, Material Science and Metallurgy, Manufacturing Process and Control Engineering.
Educational Qualifications
Master of Technology (Advanced Manufacturing  Techniques)  in Mechanical Engineering, Ganpat  University, Gujarat, India , 2012
        Thesis: Experimental Study of Hardness and Sliding Wear Resistance of Hypereutectic Al-Si Alloy.
Bachelor of Engineering in Mechatronics Engineering, U.V Patel College of Engineering, Kherva, Gujarat, India, 2007
Publications
Effect Of Mould Rotation Speed On Hardness And Sliding Wear Resistance Of Hypereutectic Al-Si Alloy, Indian Journal of Applied Research, Volume - 5, Issue - 1, Jan Special Issue - 2015, ISSN - 2249-555X, 2015. (Co-author)
Investigation Of Heat Affected Zone And Dimensional Accuracy On Laser Cutting Using Regression Analysis, International Journal of Applied Research in Science and Engineering, Volume - 1, Issue - 6, E-ISSN : 2456 – 124X, 2016. 

(Co-author)
Professional Work Experience
Assistant Professor - Mechanical Engineering Department, Saffrony Institute of Technology, S.P.B Patel Engineering College, Linch, Mehsana,

Gujarat, 

June 2014 – Present.
Assistant Professor - Mechanical Engineering Department, Amiraj College of Engineering and Technology, Khoraj, Gujarat, July 2013 – June 2014.
Lecturer - Mechanical Engineering Department, Venus International College of Engineering, Bhoyan Rathod, Gandhinagar, Gujarat , Nov 2010 – June 2013.
Lecturer - Mechanical Engineering Department, Saffrony Institute of Technology, S.P.B Patel Engineering College, Linch, Mehsana,

Gujarat,

 Aug 2008 – Sept 2009.
Trainee Engineer – Vihan Engineering Pvt. Ltd., Vatva GIDC, Ahmedabad,

Gujarat, A

ug 2007 – May 2008
Workshops / STTPs / FDPs / Training Programs
Organized a two day workshop on 'RC Aircraft' by AerotriX, Skyfi Education Labs Pvt Ltd,  December 2016
Seminars / Expert Talks
SAE India Aero Design Challenges -RC Aircraft