Manavendra Chatterjee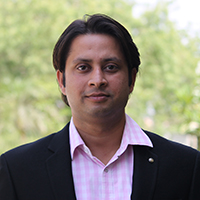 Manavendra Chatterjee
Assistant Professor
[email protected]
Brief Profile
Prof. Manavendra Chatterjee has worked in academia and various companies. At Saffrony Institute of Technology he is the mentor and guide in Robocon-2017, an international level robotics competition. He was actively involved in consultancy related work at Nirma University for the optimization of bearing cage, problem associated with Harsha Engineering Pvt. Ltd., Ahmedabad. Working as a R&D Manager in Trivedi Tectonics, Ahmedabad, he was engaged in producing high value added stone products on CNC machines, which is equipped with 13 different types of CNC Machines of Pedrini, Omag, CMs, Pelligrini ,NOAT,VICCAM from Italy, China and Abrasive waterjet machines of Flow International from USA. He was also responsible for selecting and ordering the best tools and cutting Parameters related to the materials for high quality and high productivity, also keeping in mind the tool life. His work included managing, handling, and training people about the above mentioned CNC machine's software programming, how to maintain and operate the machines. He is always in constant correspondence the companies to sort out any machine or stone processing related problems. His areas of interest are computer aided design, computer aided manufacturing, additive manufacturing process (3D printers), Dynamics of machinery, Forming methods and analysis, Finite element analysis, Design of Experiments.
Educational Qualifications
Master of Technology in Mechanical Engineering, Nirma University, Ahmedabad, Gujarat, India, 2012
        Thesis: Compensation Of Taper Angle In Abrasive Water Jet (AWJ) Machining Using Response Surface Method
Bachelor of Engineering in Production Technology, Bharati Vidyapeethcollege of Engineering, Pune, India, 2009
Awards / Achievements
GOLD MEDAL for the best student in the Computer Integrated Manufacturing from Nirma University, Ahmedabad, Gujarat, 2012
Publications
Optimization of Abrasive Water Jet machining process parameters using response surface method on Inconel – 188, International Journal For Technological Research In Engineering, Volume no. 4 Issue no.9 ISSN 2347 - 4718
Conventional Machining Of Metal Matrix Composites: A Review, International Journal Of Applied Research, Volume no. 5 Issue no.1 ISSN- 2249-555X
Moving Towards Sustainable Manufacturing; A Case Study, 3rd International conference on Industrial Engineering ICIE organized by IIIE Surat (NIT) on 28th  November,2015 and published in the conference book ISBN:978-93-84935-56-6.
Professional Affiliations
Indian Society of Technical Education (ISTE)
Technical Software Skills
FEA Package                : Ansys workbench-15
Modeling Package       : PTC Creo 2.0,NX-7,solid work
DOE Package               : Mini Tab,Design Expert
CAM Package              : Easy stone; w-cam(Italian software for 3D-embossment); Flowpath&FlowCut (Abrasive Waterjet   Software); Flowexpert; JD Paint(3D-Carving software);TYPE-3(2D-Carving software).
Professional Work Experience
Assistant Professor – Mechanical Department, Saffrony Institute of Technology, S.P.B Patel Engineering College, Linch, Mehsana, Gujarat, Dec 2013-Present.
R&D Manager – Trivedi Corp. Pvt .Ltd. Abu Road & Ahmedabad,

Gujarat, 

Dec 2012-2014
Graduate Engineer Trainee – India Dairy Product Ltd., Chanditala, West Bengal Dec 2010
Workshops / STTPs / FDPs / Training Programs
Attended a ten day Engineering Training Program in VICCAM Technology Enterprise Co., Ltd. Nanjing, CHINA for programming, operating and maintaining 3-axis CNC Router- Stone Engraving machine. (VICCAM 1326)

Attended

a four day Engineering Training Program in Flow Bangalore Waterjet Pvt. Ltd., Peenya, Bengaluru, Karnataka for programming, operating and maintaining 5-axis CNC Dynamic Waterjet XD (Abrasive Water Jet Machine)

Attended

a one week Engineering Training Program in Trivedi Corp. Pvt. Ltd. Abu Road (Rajasthan) for Programming, operating and maintaining 5-axis CNC Router- Stone Engraving machine. (NOAT-SFERA 625)

Attended

a two day Engineering Training Program in J Group Robotics, Kandivali East, Mumbai for Programming, operating and maintaining 3D Printing machine (Delta 3D Printer)
Seminars / Expert Talks
Delivered an expert lecture on 'Smart Material and its Application' for faculty members under ISTE Chapter, 2014
Organized four Design engineering workshops and exhibition of projects for Automobile and Mechanical branches in 2014-15
Key Projects of Students
M. Tech Project- 'Optimization Of Abrasive Water Jet Machining Process Parameters Using Response Surface Method On Inconel – 188'-May 2017
Design of Hexapod Robot